Author Info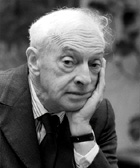 Saul Bellow

(1915 - 2005)

American writer. A prominent Jewish novelist, in 1976 Bellow won the Nobel Prize in literature.
Author Index
Browse quotes by the
author's last name
Saul Bellow Quotes and Quotations
I think that New York is not the cultural centre of America, but the business and administrative centre of American culture.
A man is only as good as what he loves.
The truth is, we've not really developed a fiction that can accommodate the full tumult, the zaniness and crazed quality of modern experience.
There is today an extraordinary interest with the data of modern experience per se. Our absorption in our contemporary historical state is very high right now. It's not altogether unlike a similar situation in seventeenth century Holland, where wealthy merchants wanted their portraits done with all their blemishes included. It is the height of egotism, in a sense, to think even one's blemishes are of significance. So today Americans seem to want their writers to reveal all their weaknesses, their meannesses, to celebrate their very confusions. And they want it in the most direct possible way - they want it served up neat, as it were, without the filtering and generalizing power of fiction.
All a writer has to do to get a woman is to say he's a writer. It's an aphrodisiac.
Our society, like decadent Rome, has turned into an amusement society, with writers chief among the court jesters - not so much above the clatter as part of it.
Alternatives, and particularly desirable alternatives, grow only on imaginary trees.
Quote of the Day
The language of friendship is not words, but meanings.